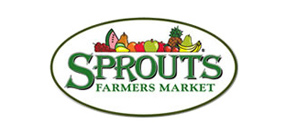 I know that not everyone has a Sprouts near them but if you do you can score some amazing produce and meat deals. Okay to be honest the meat deals are not cheaper than I can get meat on sale at Kroger or Albertson's but I personally like the quality better. Now the produce can be a very good deal. I have to drive a little to get to my store so I only go once or twice a month. My Sprouts does double ad days on Wednesdays so every Wednesday you can get the previous week and the next week's sale prices. Because of this I always try to go on Wednesday. Here are a few things on sale this week. You can see a full ad
here.
If you are not sure if you have a Sprouts near you or would like to check out the ad from last week you can check their
website here.
Red, White, or Sweet Yellow Onions $.49/lb.


Asparagus $1.88/lb.


Green Onion $.49/ea.


Cilantro $.49/ea.


Radishes $.49/ea.


Gala, Braeburn, Fuji, Jonagold Apples $.88/lb.


Green Beans $.99/lb.


Broccoli $.99/lb.


Cauliflower $.99/ea.


Spinach $.99/ea.


Organic Carrots $.88/lb.


Organic Fuji or Red Delicious Apples $.99/lb


Center Cut Pork Loin Roast $1.97/lb.


***Center Cut Pork Loin Chops are $2.97/lb. but you can make your own by buying a Pork Loin Roast and cutting the chops yourself at home. This might take a few minutes but you save $1 per pound and you can make the chops any thickness you want.***


Check out their ad for a full list of all the specials this week!